Nike celebrates the silver anniversary of the Air Max Griffey 1 by honoring Jackie Robinson on Jackie Robinson Day. 
After the release of the often-sought-after freshwater colorway last month, Nike pays homage to Jackie Robinson with the kids' signature shoe. The Jackie Robinson-inspired pair features Robinson's iconic number 42, replacing Griffeys' 24 on the insole and across both ankle straps. 
Accompanying the number swap will be one of Robinson's famous quotes, "There's not an American in this country free until every one of us is free," that will appear across the ankle collar of the strap as well.
Chicago White Sox star Tim Anderson, who returned to the lineup after spending 9 days on the IL, was one of the players rocking these special editions Griffeys. Anderson's team fell to the Indians 4-2, but he had a couple of knocks and honored Jackie appropriately.
Robinson broke the color barrier on April 15, 1947, when he made his Major League Baseball debut for the Brooklyn Dodgers. After having his jersey retired in 1997, the MLB donned April 15 as Jackie Robinson Day across the league.
In 2007, it was Griffey who asked MLB if he could honor Jackie by wearing No, 42
April 15, 2007: Ken Griffey Jr. dons No. 42 in honor of Jackie Robinson after receiving consent from then-Commissioner Bud Selig and Robinson's widow, Rachel. Selig then encourages all players to join in the tribute. #Jackie42 #RedsVault

More: https://t.co/ULpyN0g23a pic.twitter.com/jaifNV4aHc

— Cincinnati Reds (@Reds) April 15, 2021
With Griffey as the light that sparked the idea, in 2009, the MLB requested that all players and on-field personnel wear the iconic number 42 during games on Jackie Robinson Day. 
Before having his number 42 retired by all 30 MLB franchises, Robinson achieved a Rookie of the Year, a World Series ring, six All-Star appearances, National League MVP, and a National League Batting championship, to name a few of his many accolades.
His most impactful award was forging a path for other players of color and becoming a prominent politician, activist, and leader of the Civil Rights movement of the 1960s. Jackie was the first African-American to be VP of a major corporation (Choc Full O Nuts) and the first Black bank owner (Freedom National in Harlem in the 1960s). He was first in way more than just baseball.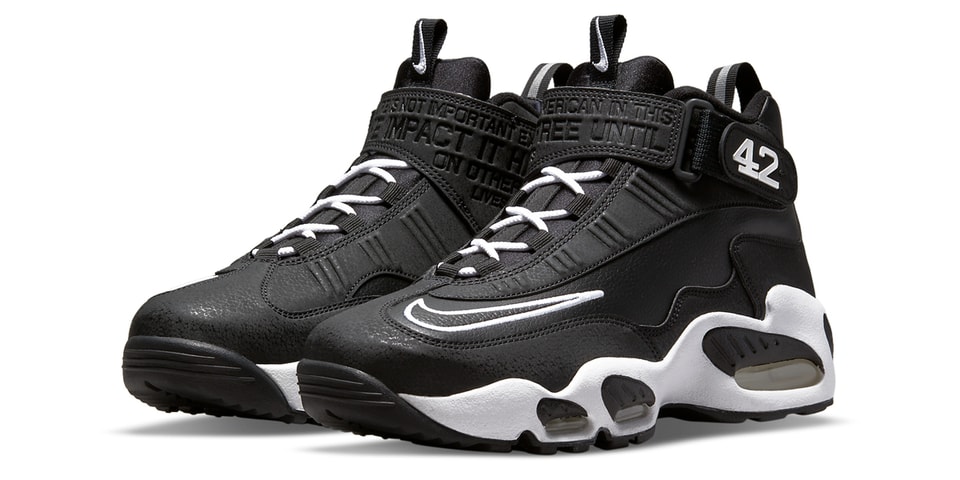 Release day for the special edition colorway will be available April 24 via the SNKRS app and at select retailers for $170.