Three years ago, on February 18th in 2019, MLB lost one of its pioneers and baseball lost its first Black pitching star. His death was announced by the Dodgers in a Tweet, but it didn't represent the full impact of Newcombe's MLB experience as a racial barrier-breaker back in the 50s. Baseball fans, celebrities, and common folk from all walks of life sent their condolences.
And the bad #BlackHistoryMonth news keeps coming 😢😢😢

Another amazing baseball legend and just an all-around fantastic human being is gone. #RIPDonNewcombe 🙏🏽🥀 https://t.co/aHiqhvWPYS

— Holly Robinson Peete 💃🏾♍️ (@hollyrpeete) February 19, 2019
Former President Barrack Obama put things in perspective in 2010 when he said, "I would not be here if it were not for Jackie and it were not for Don Newcombe.
"Newk" was a fearless, ferocious fireballer and baseball pioneer. He was the first black pitcher to start in a World Series and the first Black Ace to win 20 games in an MLB season. He's also the only baseball player ever to win Rookie of The Year, MVP and the Cy Young Award.
Branch Rickey's Integration Plan
Born in Madison, New Jersey on June 14, 1926, Newcombe only lived there because his dad was a chauffeur for this wealthy family. His pops made a good living making beer and driving.
Newcombe's only connection to baseball was his uncles, who played sandlot ball on Staten Island. His parents would get into the car on the weekends and go watch them play.
A big-time New Jersey athlete taught Newcombe how to play baseball at age 13.
While Jackie Robinson gets all of the props for being Branch Rickey's first choice to break baseball's color barrier, Newcombe was the first African-American pitcher brought in by the Dodgers
He started in the Negro Leagues with the Newark Eagles and then after meeting baseball's great emancipator, his life changed and he started his MLB career in 1949.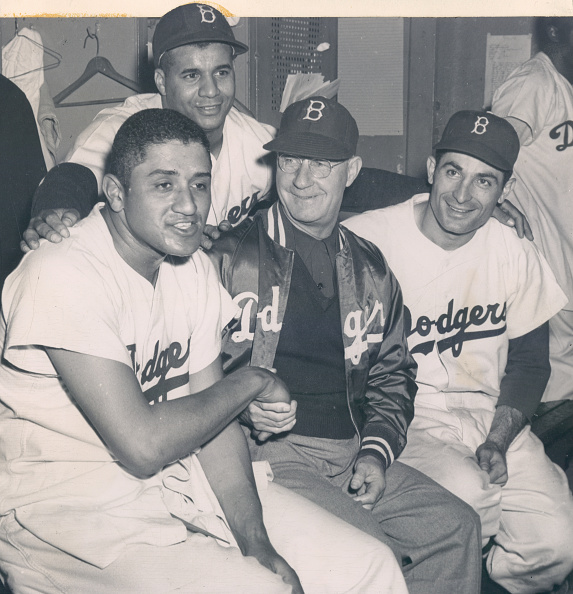 Said Newcombe in a classic interview with former Yankees and Mets announcer Fran Healy:
In 1945, we played in an All-Star Game…Negro League stars like Monte Irvin, Roy Campanella… and I happened to be on the same team with them. And we were playing at Ebbets Field and I pitched the first three innings against a major league team and shut them out."

(After the game) into the clubhouse walked this thin white man with a great big hat on that looked like a parachute and while I was sitting there getting ready to shower he asked me if  I was Don Newcombe? I replied, Yes. He asked me if I could come to the Dodgers office tomorrow in Brooklyn to talk with Branch Rickey about playing on a new Negro League team the Dodgers were starting."
He says Rickey was using the Negro League All-Star team as a diversion to mask his true intentions of integrating baseball which he eventually and strategically did in 1947 with Jackie Robinson, and then Roy Campanella in 1948 and Newcombe the following season.
The rest is MLB history. Together they played on the first racially-integrated baseball team in the United States.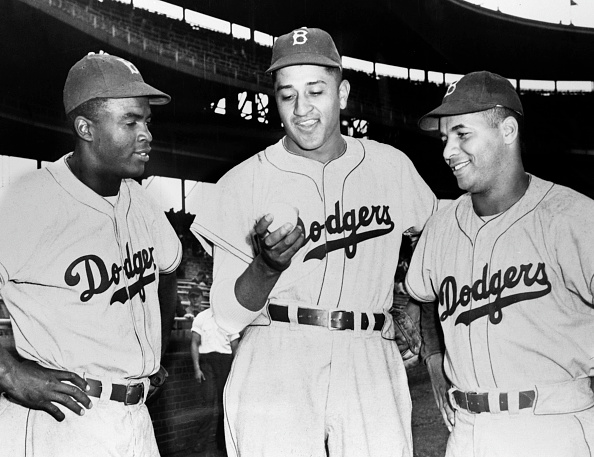 Of all the positions in baseball, pitcher is considered the glamour position. The pitcher usually gets the riches, glory or becomes the goat. Newcombe had an even rougher time than Robinson according to some historians because he was a pitcher and it was considered a white mans position.
Players, fans and at times, umpires had a strong disdain for Newcombe, and the pressure and racism and some postseason failure eventually drove him to alcohol addiction, which shortened his career.
In addition to the hate mail and death threats, the Black players on the Dodgers couldn't stay at some of the same Southern hotels as their white teammates. It was a demoralizing and angering experience.
"All we wanted to be was a red-blooded Americans like everybody else," Newcombe told Healy.
However, Newcombe was able to overcome his addictions and keep his family intact. He became a positive influence on the community and cleaned up his act, maintaining his sobriety from 1967 until his death
This 1994 LA Times article spoke of Newcombe's redemption song.
Newcombe has given speeches to more than 2 million people ranging from schoolchildren to chief executive officers. The speeches vary, but the theme remains the same.
"The life you have now is the only one you get," he said. "You can't burn it out with drugs, or drown it with alcohol, turn it in and get a new one."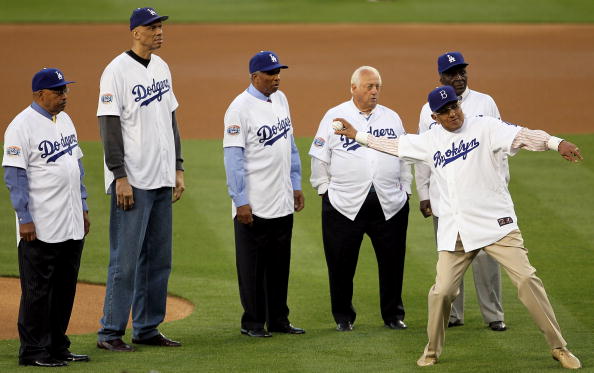 Newcombe became director of community relations for the Dodgers in 1970, and for 14 years headed the team's alcohol and drug program, the first of its kind in the major leagues.
An amazing, towering Black Ace, the 6-foot-4 Newcombe had a stellar career on the hill with four All-Star appearances, 149 wins, just 90 losses and 24 shutouts. He was in the Top 10 among NL pitchers in ERA four times, wins five times, and strikeouts five times. He also could handle the bat, hitting 271 with 15 homers and 108 RBIs in 878 career at-bats.
But it's what he did for future generations of players that make him extremely worthy of this Shadow League Black History Moment reflection.
Salute!