For the 17th year in a row, Major League Baseball celebrated its most important holiday: Jackie Robinson Day.  
Every April 15th since 2004 players and coaches from each team wear Jackie's No. 42 on the backs of their jerseys in honor of him being the first to break the sports color barrier.  
Robinson is the only player to have his number retired throughout an entire professional sporting league.  Through donations, customized cleats, letters and shirts, the league and its players found many ways to honor the Brooklyn Dodgers Legend.
First, the Players Alliance which is a nonprofit organization funded by active and former players seeking to improve the representation of Black America in baseball, made a huge splash.
More than 230 members of the group including David Price, Mookie Betts, Jason Heyward, Marcus Semien and Jackie Bradley Jr. pledged to donate their full game day salary in support of the Jackie Robinson Foundation. 
 "What Jackie Robinson means to me…He is an inspiration whose life and works transcended far past just baseball.  His sacrifices made this world a better place," said Jackie Bradley Jr. when asked about Robinson's impact.  
The organization is also planning to make a financial commitment to the Jackie Robinson Foundation to support the launch of the Players Alliance and JRF Scholarship Fund, empowering students to receive scholarship money for Fall 2021.
Last season the group raised over $1 million on Jackie Robinson Day and the money was invested into Black communities.
The Players Alliance hooked each player up with "Breaking Barriers" Nike Warm-up shirts for batting practice.  We also saw many players with customized "42" cleats such as Tim Anderson, Franciso Lindor and Alex Bregman.
Many players took the time to express what Jackie Robinson Day means to them.  
"I just want to say thank you so much for everything that you have done for the sport, for people like me, people like you and for people around the world that would have had a very tough time trying to do what we are doing today in any sport.  So I salute you," said Miami Marlin's second baseman Jazz Chisholm, who is the third Bahamian-born player to make the Major Leagues.
From San Diego Padres outfielder Tommy Pham: "Wearing 42 today is a step in the right direction.  It signifies equality and it signifies meaning as a Black man in this game being able to live the childhood dream."
The most rewarding part of Jackie Robinson Day is seeing all diversity at its best with players of all races honoring one of the most important Civil Rights legends this world has seen.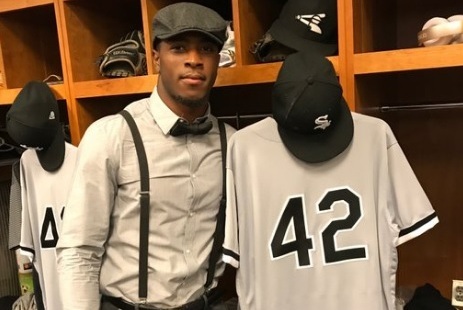 Jackie balled hard each time he laced his cleats up. He stayed committed and bravely fought  through any and every adversity he faced. 
The Universe is a crazy place, but seeing everyone come together on this special day to celebrate a common goal gives us hope in the race for equality.