MLbbro.com's Mark Gray recalls Ken Griffey Jr.'s historic 600th home run.
It's been five years and Nike is finally bringing back the Air Griffey Max 1 in a host of original color schemes. This time the brand isn't just honoring "The Kid." The new  Air Force 1 will commemorate both Ken Griffey Jr. and his Dad, Ken Griffey Sr. who was also a dope MLB outfielder and teammate with his son for one season.
They remain the only father-son duo to go back-to-back in an MLB game.
The left and right shoe are dedicated to Jr. and Sr. respectively, with the suffixes appearing atop the Swoosh on the mustaches and on the insoles. Their numbers, 24 and 30, also appear on the lateral side of the heel, while the tongue lining is mismatched with blue on the left and yellow and the right. Red stitching on the heel mimics that of a baseball, cementing the Air Force 1's connection to America's pastime.
Nike doesn't hitch its brand to Black baseball players often. In 2020, ESPN compiled a list of the top 100 most famous athletes around the world and not a single MLB player was ranked.
Tim Anderson has appeared in Nike ads and seems to be the "face of Nike" for baseball, but when it comes to being able to sell signature shoes, Griffey Jr. locked that down years ago when he transcended the sport and inspired generations of Black ballplayers. Too often, the father is overlooked when telling the story of the Black superstar, but Griffey Sr.'s role in Junior's life is undeniable and he deserves to be honored as well.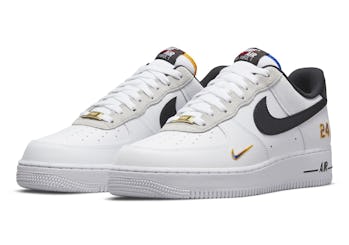 Back in the 90s, Nike was swooping in and hitching their wagon to the greatest emerging cross-training and captivating athletes. Griffey Jr. followed Bo Jackson and Deion Sanders as the face of the show giant's cross-training line.
According to reports, when it came time to design his signature shoe, Griffey Jr. had one simple instruction for the designer: "Just make it loud."
"At that time, I wanted to be different than everyone else," Griffey Jr. told Sole Collector in a 2009 interview. "I think that was the one thing I wanted. A big ol' Swoosh on there, too, and I wanted a strap. I think I was really adamant about the strap."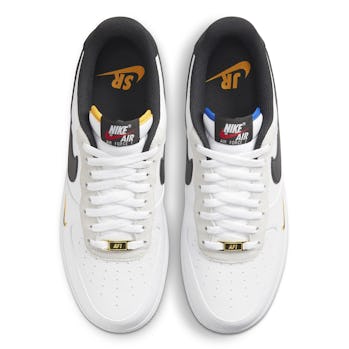 The Air Griffey Max 1 was a slow roller in the mainstream but quickly became a go-to hood classic in the streets of New York.  Later on, it would take on a more iconic status for sneakerheads — standing out more than any of his subsequent sneakers.
LeBron James even paid homage to the original "Fresh Water" color scheme with a pair of his limited-edition #LeBronWatch sneakers in 2018.
The Griffey Jr. and Sr. Air Max 1 don't yet have a release date but should be dropping relatively soon. In the meantime, the Air Griffey Max 1 "Royal" is slated to release this week — and an Air Vapormax that commemorates Jr.'s iconic "Spider-Man catch" is also on the way.